A Little About the Author
One of the first two careers I ever wanted was be a spy. If that failed, I was going to be a model. That was back when I was about 8 years old. Don't know where I got those ideas but neither ever panned out. In college, obtaining a BA in Theater/Speech Communication began directing my future until I fell in love. Everything changed including my career path.
Instead of following the lights, over the years I was a Jane-of-all-trades in accounting, executive office assistant and sales in swimming pool and spa equipment. It was when I answered an ad looking for feature writers for a local paper, I finally felt like I was coming home at last. Writing! I loved it! I began ten long years of honing my craft with my great boss, Brad Nibert, who trimmed up my rough edges. Trying different styles and formats, the stories began evolving as did the imagination God blessed me with, in order to bring the fascinating people, places and things to life in words.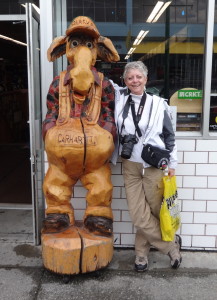 With my creative passion now at the surface, it has kept me busy following the myriad paths opening to me. Watching the Harry Potter and Tolkien's Lord of the Ring series and the Marvel superheroes movies, I absolutely loved them but became disenchanted with all the ugliness and evil. I began asking God to let me write books which would still let people go on a grand adventure but lend itself to a spiritual side, leaving my readers on a high rather than searching for a cave to hide out. I prayed that for many years, as a matter of fact. Then Rocksann Finds God was published and an even more intense project, Everelle's Quest popped it's head up one night. 
Always starting my writing sessions with prayers, then writing to every kind of instrumental music, my books came to life.
Publishing my first book, a storybook – Rocksand Finds God – after completing a successful Kickstartr.com campaign, suggested by Eduardo Millet of the McAllen Chamber of Commerce, other books began bubbling to the surface.
Everelle's Quest began through a dream and a painting by an elephant of his foot. That painting became the Isle of Foote. When I began visiting Foote in daydreams, the world opened up and the characters began to come to life.
It became perfectly clear a website was needed and thus, I find myself meeting you and welcoming you to my site.
Hope you enjoy!