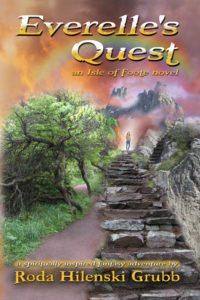 [easingsliderlite]
NOW IN PRINT AND eBOOK!
Ebook available at these locations:
Click here for Barnes & Noble Nook
Click here for Playster
Everelle's Quest
an Isle of Foote novel
Artwork by Nancy Snyder
Escaping from a burning conflagration, Everelle (Ellye) found herself among eight others, running for their lives. Following a stranger into a mountain, they found it was the beginning of their new lives. Suddenly they were expected to save a kingdom and none of them knew a thing about self-defense. How
were they supposed to be the "knights in shinning
army" for this world they found themselves in? And could they believe all the unbelievable characters they encountered on the way?

"The story is brilliant. I have enjoyed reading it from beginning to end. As I read, I could also visualize the story as a beautiful and exciting film. You have written a great and exciting story!
– Judy Davidson, Retired Director of the Writing Center, UTPan Am, Edinburg, TX

"I've just finished your amazing story and I have to tell you I was spellbound by it. I loved it!"
– Nancy Millar, Vice President McAllen Convention and Visitors Center